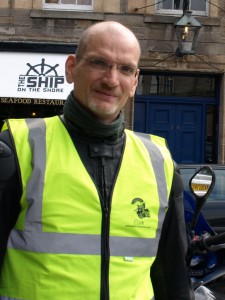 It's a bit scary when I look at my driving licence and find I've been riding for 21 years. I'm not a fair weather rider, I've ridden in summer, winter, rain, even snow sometimes. Most of my riding has been functional – commuting, going from A to B. I've done longer rides, of course, when my father was in hospital I was riding from Edinburgh to Dundee a couple of evenings a week. I've always been told I'm a safe rider, but I feel slow sometimes – as if I can't keep up the pace that others can and be safe.
I've come off the bike four times, but never at speed. Twice it was when riding on snowy/icy roads (perhaps I shouldn't do that!), once was on diesel at a roundabout, and the last time was the fault of a police car! There's a whole story in that last one, but there's a pattern to all of them – slow speed, losing control of the front wheel and going down. No injuries beyond bruises, and scrapes to the bike – but clearly a lesson I haven't learned.
So I want to learn to feel safe riding a bit faster on open roads, and be a bit more in control when things are going wrong at low speeds.
A few years ago I signed up for the Police BikeSafe scheme – and went along for the lecture. I learned a lot: to look for hazards from far to near, taking corners at constant speed on a constant radius… but they couldn't manage to set me up on a ride, so I never did the practical part. They did suggest I just join the IAM (Institute of Advanced Motorists) as there was a great local group, but I didn't get around to that till this year, when I was at the bike show, had a little spending money in my pocket, and the local IAM group were there. So, I signed up.
There was a little messing about with packs not arriving in the post, me being away, bouncing forms back and forth (I think the local group could streamline their process for new Associates a little, but they are very helpful) – so I was a bit slow getting started, but.. I'm now signed up.
A little nervous, no idea what to expect, but my first ride with an Observer is on Thursday.